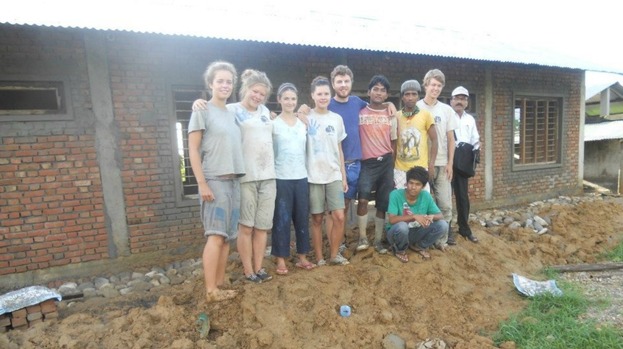 "Snakes come out of the grass in monsoon season. I couldn't believe we were working around poisonous snakes!"
These are the words of Glasgow University student Chloe Pratt, 21, who spent six weeks in Nepal last year as part of a project for the Student Volunteers Abroad programme – a student run, not-for-profit organisation based at the university.
The project saw 11 students plucked from the comfort of Glasgow's west end and dropped off in a remote jungle village in the Chitwan region of Nepal, an impoverished community where the students were tasked with building classrooms and teaching English in local schools.
"Women have very few rights in Nepal, and the community we were in was quite impoverished," said Chloe.
"There are public and private schools, but the private schools cost the equivalent of £50 a year to attend. There's very little funding for public schools.
"We were building two extra classrooms so that the local children could go to school for another two years – otherwise they would have had to leave after primary 6."
Staying with a local Nepalese family, the students spent their days mixing cement and laying bricks while dodging poisonous snakes in the grass of the building site.
By working closely with non-governmental organisation (NGO) the Partnership for Sustainable Development Nepal, the Glasgow University team were able to provide ideas and advice on how the project could be more beneficial to the community and how their work could be sustained.
"Before the trip, I didn't consider how difficult international development was," said Chloe.
"It's not just about 12 people going out with money and building a classroom. These things need to be sustained, otherwise things will be more difficult in future.
"The NGO we worked with lacked education and was low on resources, so were able to provide feedback on how we thought it would be improved.
"We're really passionate about the cause and making changes that will really benefit the community."
As fundraising begins for the 2013 project, Chloe is helping coordinate the new team of Nepal volunteers and providing advice from her experiences within the community.
On Sunday 27 April, the new cohort of 12 volunteers will tackle a rowing marathon in St Enoch Square to help them edge closer to their £9,800 fundraising total.
A team of 10 rowers will attempt to cover as many lengths of the 4.5km Phewa lake in Pokhara, a city in Nepal, from rowing machines in the St Enoch Centre.
"One of the guys rows for Glasgow Uni so he should pull us through," said Victoria McIvor, 20, who is part of the 2013 project.
"I'm hoping we will get lots of money from passers by – they might take pity when they see me drenched in sweat!"
The 2013 project team also plan to climb Ben Nevis to raise funds, with several of them committed to completing the Three Peaks Challenge – climbing the highest mountains in Scotland, England and Wales in 24 hours.
Despite being nervous about teaching classes of 50 children and facing issues such as 'mob law' – the idea that if you report a mugging in Nepal the culprit will be beaten in the street – Victoria and her fellow SVA volunteers are excited and prepared for the challenges ahead.
The Glasgow University team are hopeful that their work and fundraising will really impact Nepal and set the village up for a stronger future.
"I think the focus of our trip is an educational one, and I'd like to think we'll really make a difference for some of the children out there," said Victoria of this year's project.
"The money we raise and the construction work we do within the schools will hopefully make a significant difference to the quality of their education.
"I think we'll at least ensure they have access to more materials and reduce overcrowding in the classrooms, so that should be a lasting contribution we can feel proud of."
To sponsor Victoria and the rest of the team, visit her Just Giving Page.
source:http://local.stv.tv/glasgow/magazine/221225-glasgow-university-students-build-schools-in-nepal-with-sva/